"I didn't have time to see if they looked good or not, whether they were blondes or not."
That was the response of Russian President Putin after a topless Femen activist spewed "Fuck you, dictator!" in his face a couple weeks ago.
The dialogue, not surprisingly, epitomizes a crusade against injustice gone terribly wrong.
Femen, a radical feminist coalition that started in 2008 as a "sexual revolt" against Ukraine's sex industry, has gleaned high-profile coverage of their protests against patriarchy in "the dictatorship, the church, and the sex industry." While their demonstrations have ranged from rallying outside the Turkish embassy in skimpy, "sexy nurse" outfits to sawing down a 13-foot wooden cross in central Kyiv, their most recent act of "hooliganism" (their technical criminal charge) was an "anti-dictatorial attack on Putin" at a trade fair in Hanover. The protest has sparked such widespread attention in the media that the photo below is "what will likely be judged one of the most prominent news pictures of 2013."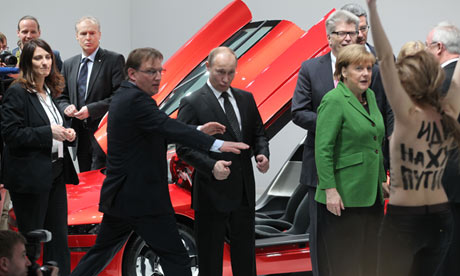 Femen is messed-up for obvious reasons: their vendetta against "the Enemy" (men) is self-crippling, their shock-value entrenches the misogyny they seek to destroy, and they propagate colonial, ethnocentric premises of resistance. Since many target "Femi-Nazis" as a "love to hate 'em" kind of group, I guess these critiques go without saying.
But Femen, extreme as they are, still incarnates a mentality that typifies the average postmodern woman: to be fully independent, she must be "sexually free" and"own" her body as a response to sexual commodification. The once radical mentality that made Sylvia Plath view her virginity as a "millstone around her neck" decades ago is now the commonplace expectation that makes Ansiedad in Girl in Progress glorify the loss of virginity as her right-of-passage into adulthood.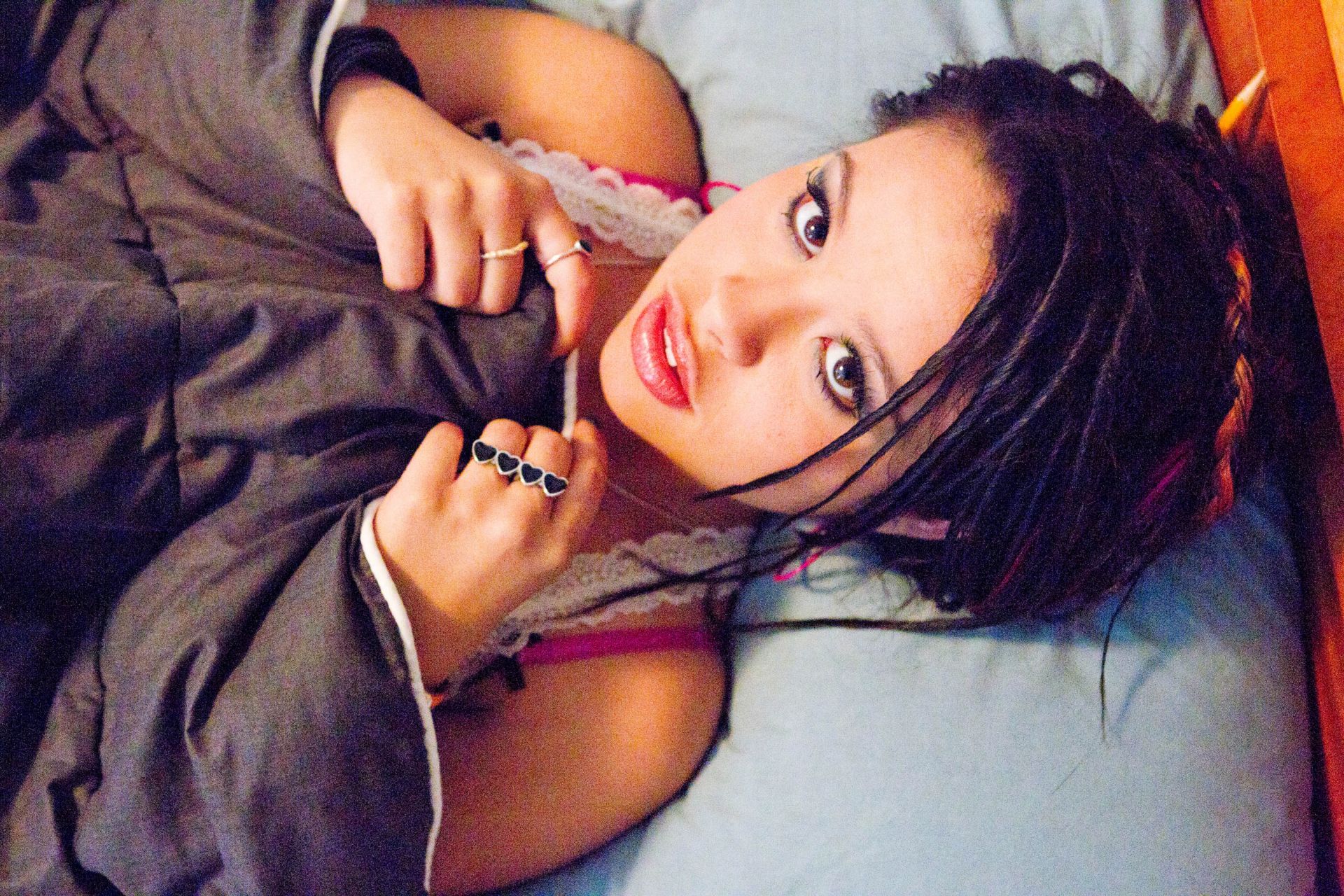 But, the phrasing of "sexual freedom" offers only a façade of liberation. It is really undergirded by a hegemonic stranglehold on language— a new cultural captivity just as imprisoning as the straight-laced "purity" in Plath's time. Femen thus overlooks that a "most visual and fitting embodiment" of fearlessness does nothing other than intensify a sexually objectifying gaze. Just look at how limited their "visual" is, with front-women who could double as mainstream models (media coverage certainly isn't occupied by naked protestors who are over 60 or obese).
Just as the privileged woman's false notion of corporeal autonomy renders her ineffective to combat something as destructive as the sex industry, so does any attitude that alienates women from men. For Femen to expect a patriarchal world to be changed on their own divisive terms— i.e., I will throw my naked body at you until you learn to stop treating me as a sex object— is like expecting an alcoholic to become sober by thrusting whiskey in his face. You don't punish the wrongdoer by using the very object of temptation as a weapon.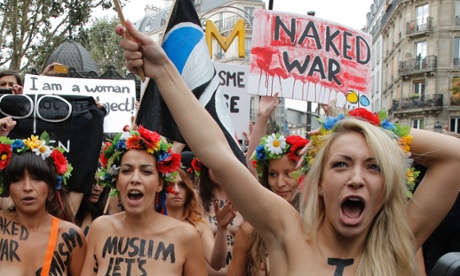 Lynds and I recently heard about a fundraising initiative for sex-trafficking that not only abated our disillusionment with Femen's clutch on the feminist cause, but reminded us that the goal of feminism is as much reconciliation between genders as it is cultivating societal conditions that acknowledge a woman's full worth.
In Walk a Mile in Her Shoes, a fundraising event offered by the International Men's March to Stop Rape, Sexual Assault & Gender Violence, "men literally walk one mile in women's high heeled shoes to protest sexualized violence, educate their communities and raise money for chronically underfunded rape crisis centers, domestic violence shelters and other sexualized violence prevention and recovery services."
In similar demonstrations, participants might run barefoot to simulate a refugee. I would assume that a symbolic act such as this one—with its powerful visual and partcipants' voluntary discomfort— might be more attractive to a man than a mile-walk in high heels. Yet it is the very symbol of a woman forced to decorate and sell herself— a symbol that underscores her humiliation— that the men willingly take on. Why do they embrace this route of self-imposed humility, or even for some (however trivially), humiliation?
I think of how Jesus willingly washed the disciples' feet when He realized "that He had come from God and was returning to God." He assumed a most outrageous posture of servitude when He had faith that it had eternal worth in God's economy.
Not only is Walk a Mile in Her Shoes just one example of an effective fight against sex-trafficking because of the substantial funds it raises; it is also an example of how feminism's goal should be not a deeper line in the sand between genders, but a reinforced partnership of mutual servitude. My point here is NOT that a guy has to wear high-heels to fight patriarchal power structures; I use this example simply as a radical symbol of an  attitude that directly opposes Femen's.
The attitude — whether it manifests in a grace-filled discussion about pornography, a church's collective and unbiased probing of gender roles in Scripture, or a joint effort to generate funds for WAR or the A21 Campaign — is one that fosters unity. Only in this kind of community— one that pulsates with grace and sacrifice— can we supplant cultural notions of femininity and masculinity with gender restoration, not gender abolition. As Dr. N.T. Wright argues, "being male and female, and working out what that means, is something most of creation is called to do and be."
Since it's easy to dislike Femen, it's also easy to brush them under the rug in social justice or feminist discourse. But as Christians— people united under a term that carries just as much baggage as "feminist" does— we'd do well to reclaim and redefine our redemptive mission in every social avenue, be it women's rights, economic disparity, racial reconciliation, or immigration reform. Otherwise, we can expect to hear the same degrading dialogue among those who most need a "renovation of the heart." After all, President Putin's tongue-in-cheek response to the "obscene slogan" on the back of a topless female protester was that he "liked" it.